At Three, Your Child Is Learning To Do More For Themself!
Your child is curious and may ask a lot of questions. They need structure and support to LEARN NEW THINGS.
YOUR CHILD MAY BE A PICKY EATER AT TIMES.
They might like a food one day, but not the next. It's okay if they eat a lot sometimes and not very much at other times. This is common. They will eat when hungry. To do their best with eating, offer healthy meal and snack options.
YOUR JOB IS TO DECIDE:
What food to give
When to give the food
Where it will be eaten
YOUR CHILD'S JOB IS TO DECIDE:
If they will eat or not
What they will eat from the food given
How much they will eat
HERE'S WHAT WILL HELP:
Have sit-down meals and snacks. Be consistent and offer food around the same times.
Offer at least one food your child likes at each meal and snack.
Keep favorite foods that are not offered at mealtime out of sight.
Seeing you eat healthy foods makes your child want to try them too.
Limit noisy distractions during mealtime. For example, if your child is distracted by the TV, he may not be able to eat.
Only offer water in between meals and snacks. Limit 100% juice to ½ cup a day.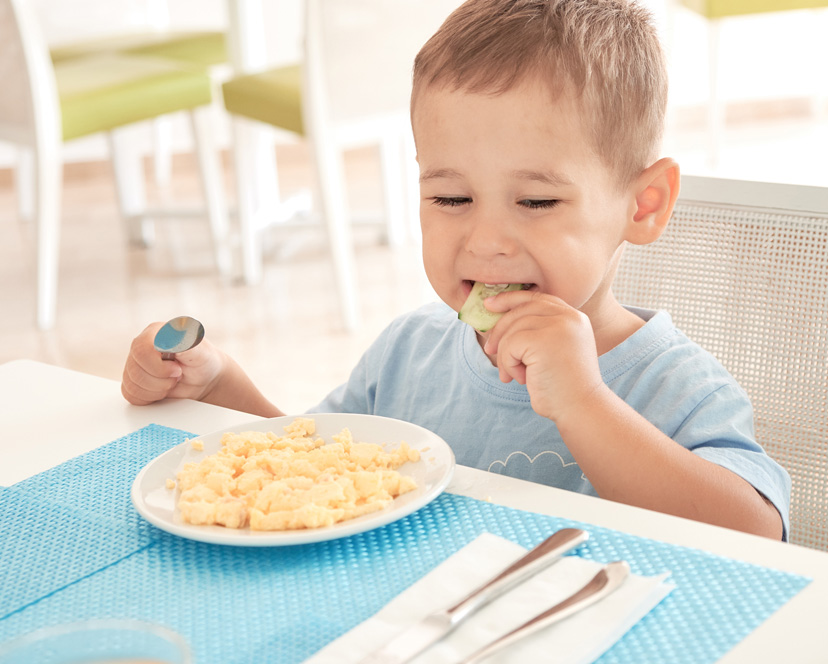 Young kids are smart eaters.
They eat when they are hungry and they stop when they are full.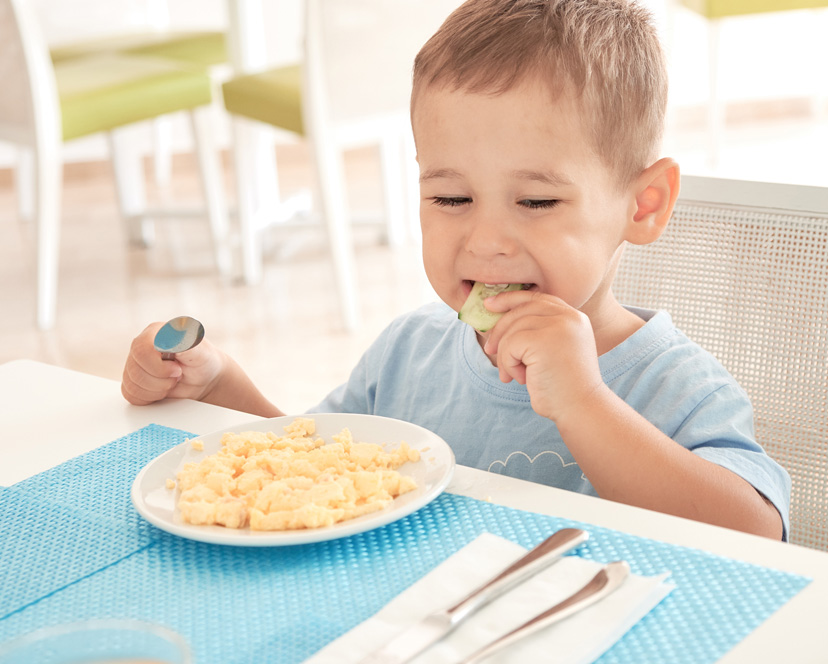 Here are some examples of what meal and snack portion
sizes might look like:
Your child may eat more or less than these amounts.
Breakfast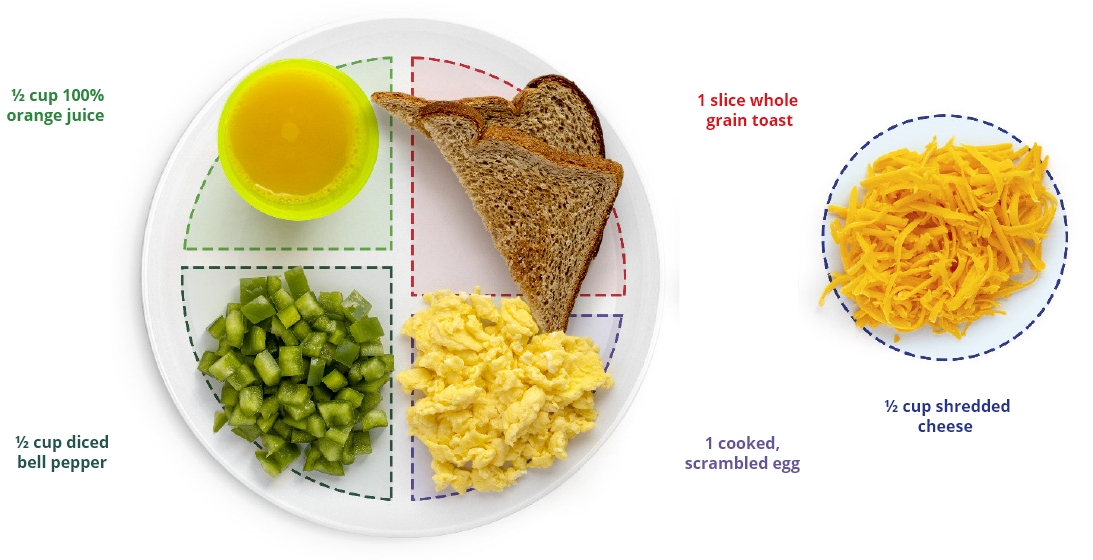 Morning Snack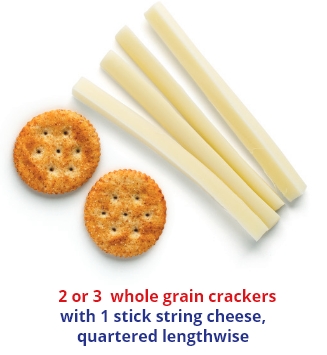 Lunch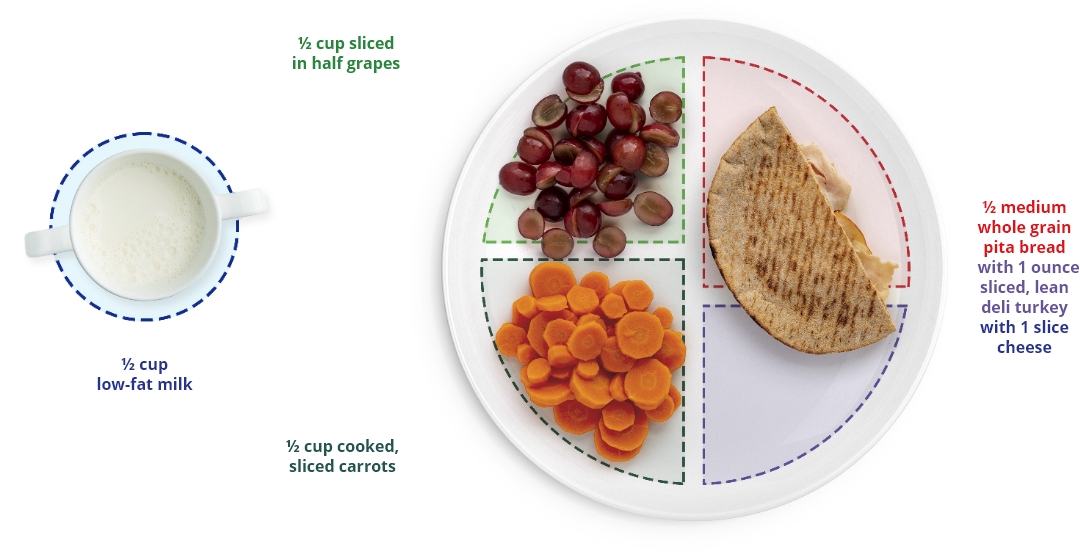 Afternoon Snack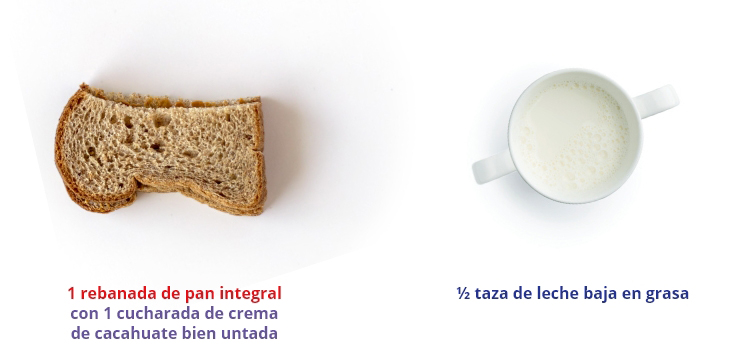 Dinner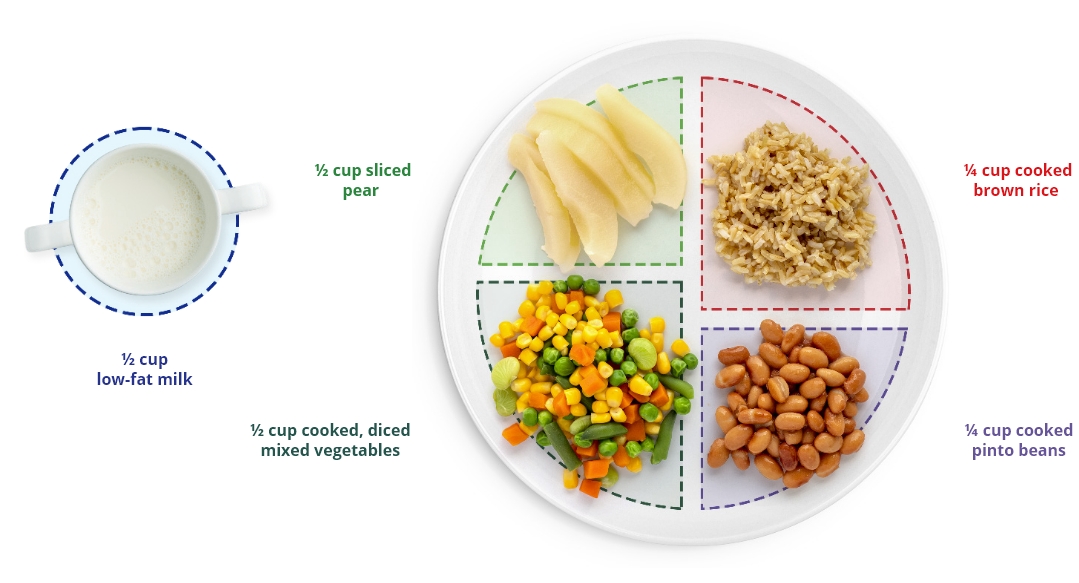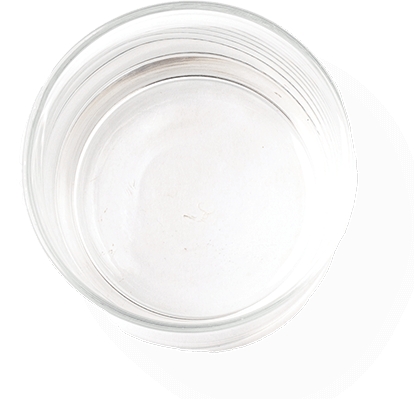 Offer water between meals and snacks.
For meal and snack recipes and videos using foods you get on WIC, sign up for wichealth.org

Fruits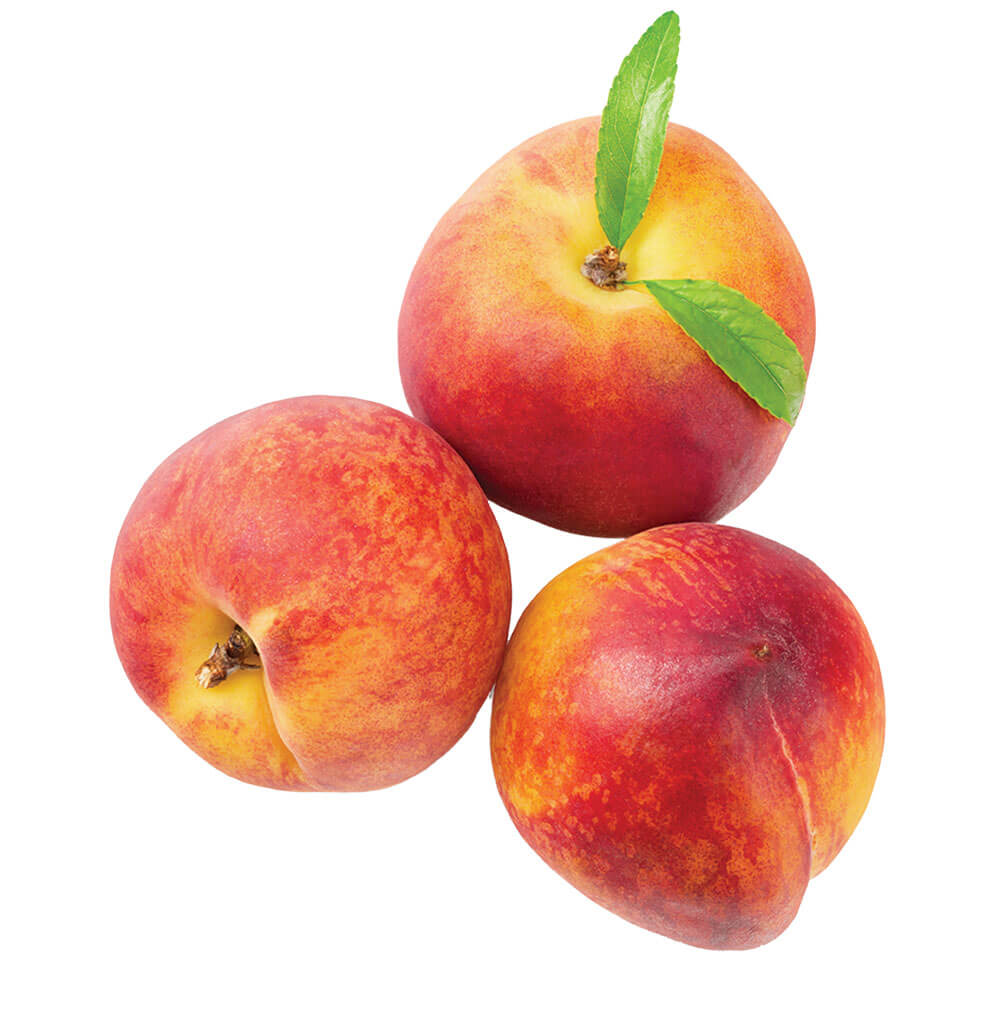 3 servings a day
(1½ cups total)
1 serving = ½ cup
EXAMPLES:
Cooked or soft raw fruit.
Mashed, sliced or chopped.
Offer a variety: red, yellow, orange, blue and green.
Vegetables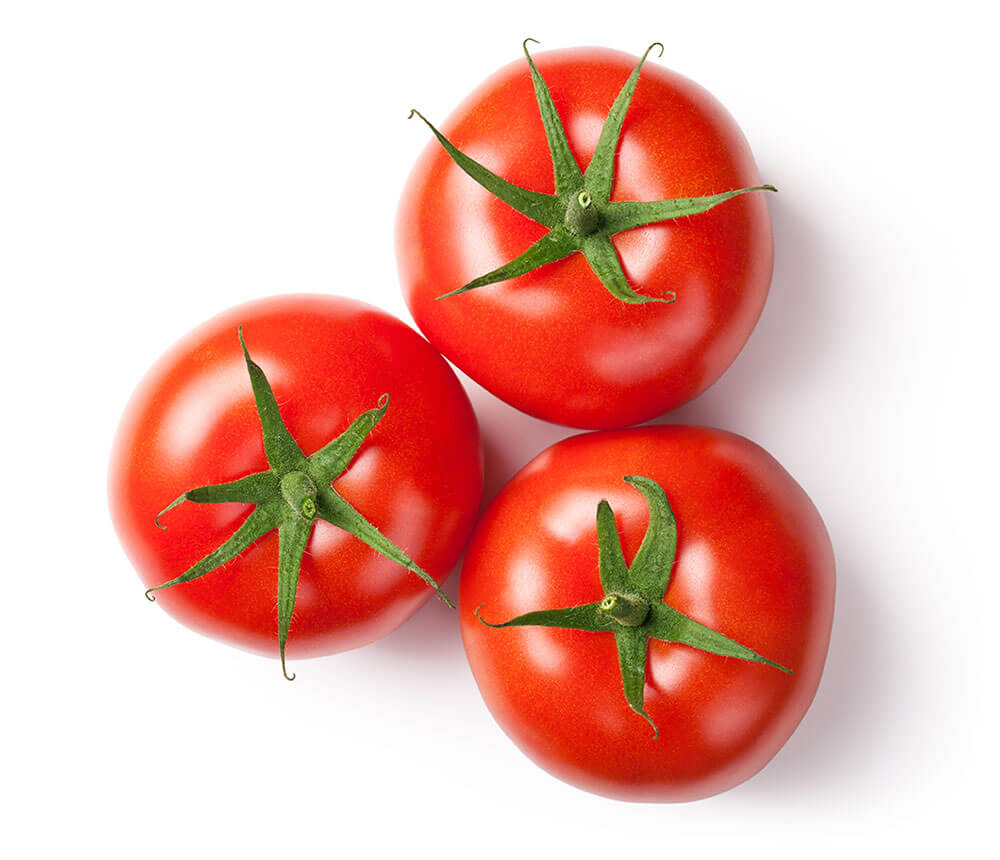 3 servings a day
(1½ cups total)
1 serving = ½ cup
EXAMPLES:
Raw or cooked, mashed, sliced or chopped veggies.
Offer a variety: dark green, orange, red, yellow and purple.
Grains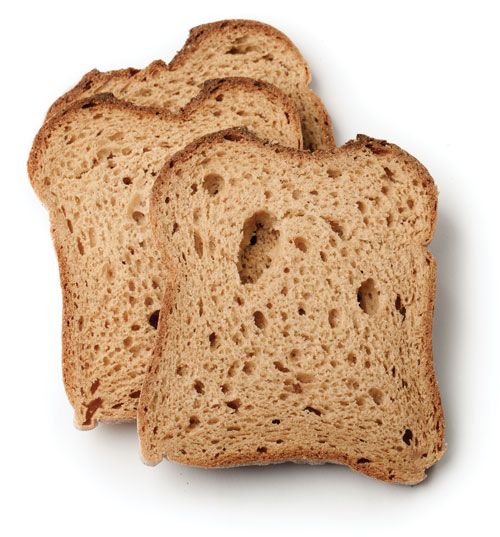 6-8 servings a day
(3-4 ounces total)
1 serving = ½ ounce
EXAMPLES:
½ slice whole grain bread or tortilla.
¼ cup rice or noodles.
½ cup dry or ¼ cup cooked cereal.
Proteins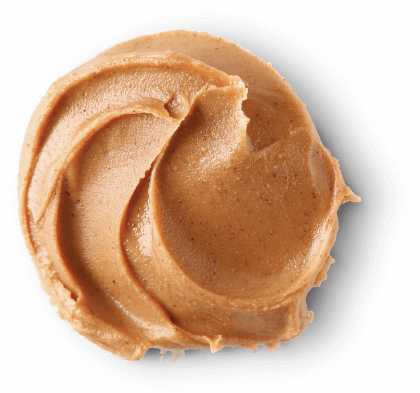 3-4 servings a day
(3-4 ounces total)
1 serving = 1 ounce
EXAMPLES:
Size of 3 dice-sized cubes cooked lean meat, poultry or seafood.
1 egg.
¼ cup cooked beans, peas or tofu.
1 tablespoon peanut butter.
Dairy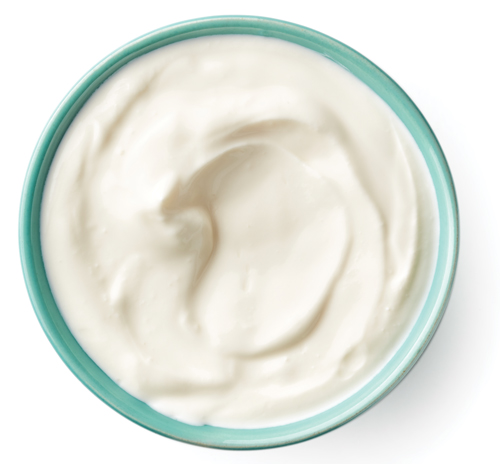 5 servings a day
(2½ cups total)
1 serving = ½ cup
EXAMPLES:
Cheese.
Other option: Soy milk.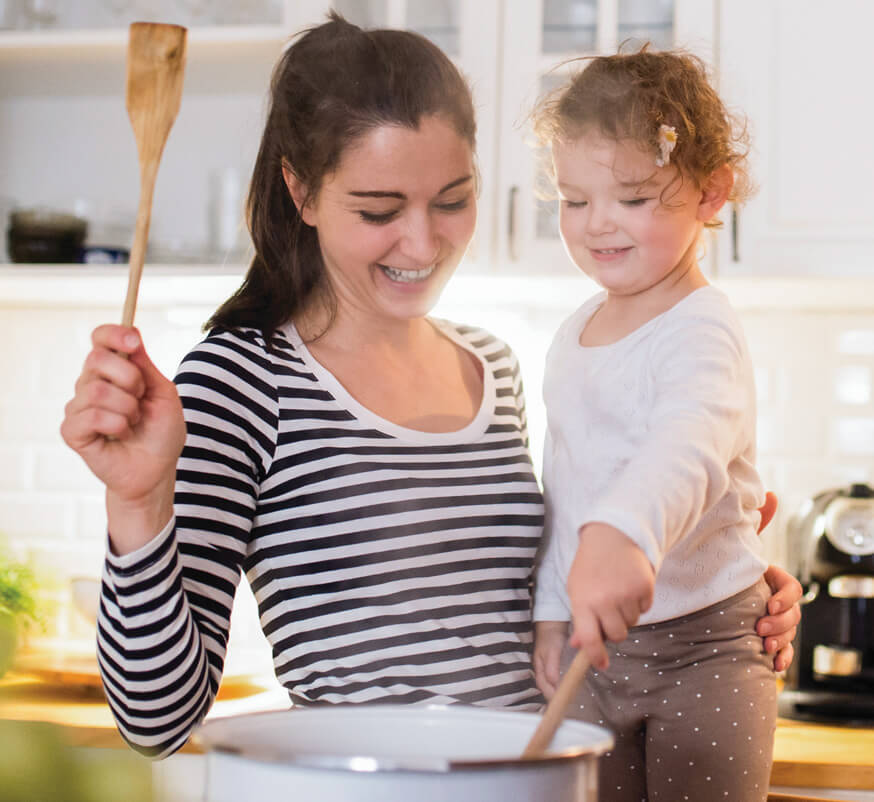 Look What I Can Do!
Let your child help in the kitchen. By helping you make meals, your child is more likely to taste what they helped create.
Your child can help pour water into plastic cups, use a big spoon to help stir pancake batter, spread peanut butter and jelly on slices of bread using a plastic knife and shake things using two hands, like plastic bottles of salad dressing. Make sure the lids are on tight!
Track your child's development with easy-to-use checklists, visit
Keep Me Safe
and Healthy
Help your child brush their teeth 2 times every day with a small, soft toothbrush and a pea-sized amount of fluoride toothpaste. Teach them how to spit out the toothpaste and floss teeth that touch every day.
Your child does best with simple rules. Set limits on when, where and how often they have TV, phone or computer time. Talk about what they are learning when you watch together. Limit TV, phone or other device time to 1 hour a day.